I absolutely love the formula 49, you barely need to use any and it will cover your whole head and it will hold all day a nice matte finish keeping that natural look! I love it, will absolutely buy again. -Travis J.
Love the styles my hair can hold thanks to this pomade. Highly recommend it for a low shine/matte image. -Adam R.
The product holds all day without having crunch and making your hair stiff. The smell is top notch and lasts most of the day. When you're done styling the residue washes off your hands with ease. Also their customer service is amazing! -Emory
Alpha Formula 49 combines our unique clay pomade with the vanilla, clove, and citrus scent of the Alpha line. Give your hair a matte finish with high hold, and never worry about smelling less than amazing.
We only use Organic ingredients:
Beeswax, Coconut Oil, Tea Tree Oil, Argan Oil, Jojoba Oil, Fragrance (Body Safe)
How It Is Different
This is the first-ever Organic Clay Pomade made by US Marines!
The Big Difference Comes Down To The Ingredients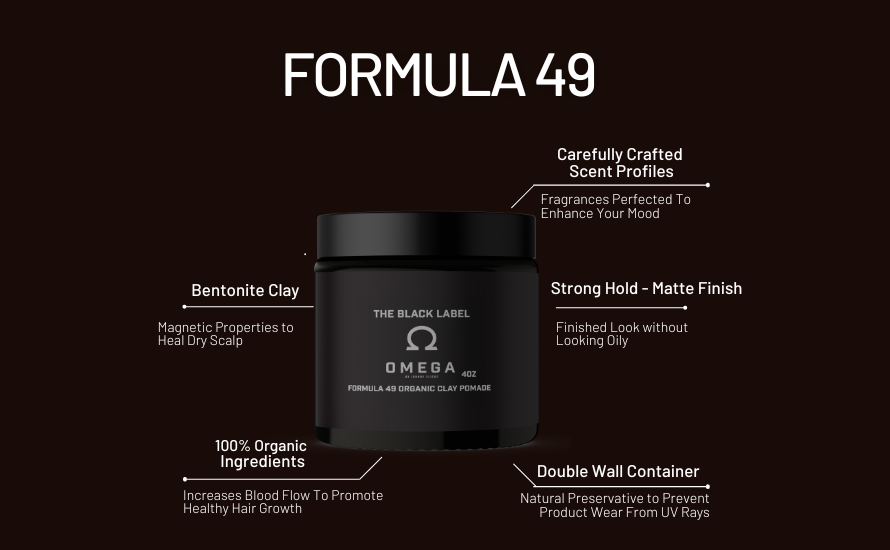 Beeswax
Coconut Oil
Purified Water
Castor Oil
Other Ingredients
Bentonite Clay, And Fragrance (Body Safe)
How To Use
Rub the desired amount between your palms, spread evenly on dry hair. Style with comb or fingers.
How It Looks
This clay based pomade will provide a strong hold with a matte finish look to keep you looking slick all day long! ">