JOHNNY SLICKS FRAGRANCES
YEAR-ROUND FRAGRANCES
Original scent is fresh, clean, and masculine with notes of Amber, Teakwood, Coffee Beans, Charred Woods of Pine, Cedar, and Sandalwood.
Rugged fragrance is an incredible blend of Juniper berry, Cedar wood, and Cuban Tobacco that will leave you speechless.
Cinnamon Roll has sweet notes of Cinnamon, Pure Vanilla Bean and Caramelized Sugar.
Paradise fragrance is sweet & fruity with notes of Freshly Squeezed Oranges, Pineapple, Coconut, Mango, with a hint of Grapefruit.
Vanilla has sweet notes of Vanilla Bean and Caramelized Sugar. It matches our Cinnamon Roll fragrance perfectly.
SPRING SEASONAL FRAGRANCE AVAILABILITY (MARCH 1 - SEPTEMBER 1)
Spring scent with citrusy notes of Cut Grass and Lavender.
Armogan is a flawless blend of Teakwood and Coconut.
SUMMER SEASON FRAGRANCE AVAILABILITY (JUNE 1 - SEPTEMBER 1)
Berry Slicks scent is a very smooth mixture of Black Raspberry and Vanilla.
Oasis scent is clean and relaxing with notes of Green Tea, Cucumber, and Evergreen Moss.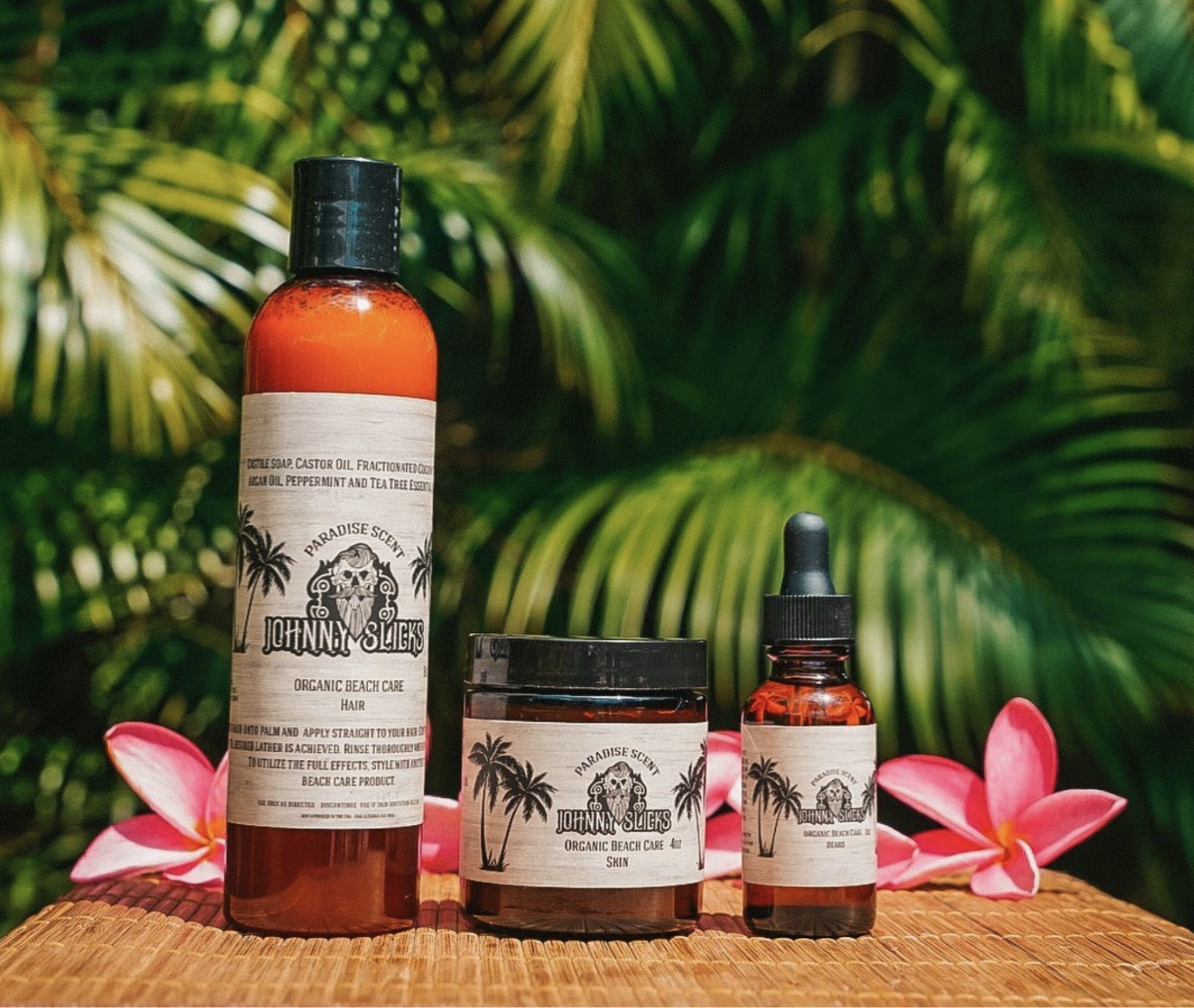 BEACH CARE PRODUCT LINE (JUNE 1 - OCTOBER 1)
Beach Care Includes Beach Care Skin, Beach Care Hair, And Beach Care Beard.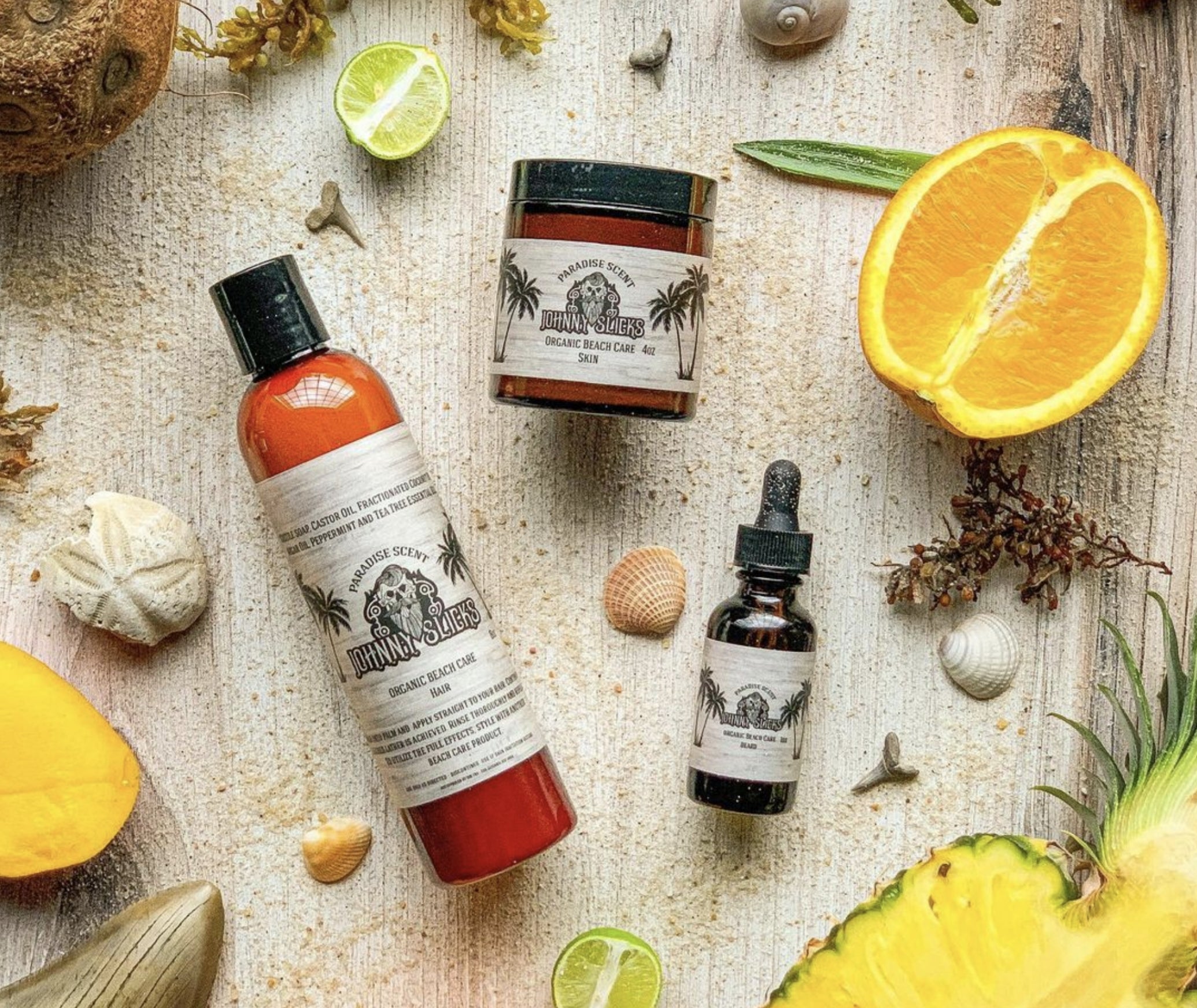 FALL SEASON FRAGRANCE AVAILABILITY (SEPTEMBER 1 - MARCH 1)
Maple Slicks fragrance is a delightful blend of Maple Syrup and Pecan Pie.
Punkin' Slicks scent is Pumpkin, Buttered Rum, Nutmeg, Ginger, and Vanilla.
WINTER SEASON FRAGRANCE AVAILABILITY (BLACK FRIDAY - MARCH 1)
Apple Slicks is a smooth blend of Apple Cider and Apple Pie.
Merry Slickmas is Pine, Cedar Wood, Citrus, Clove, Cinnamon, and Caramel.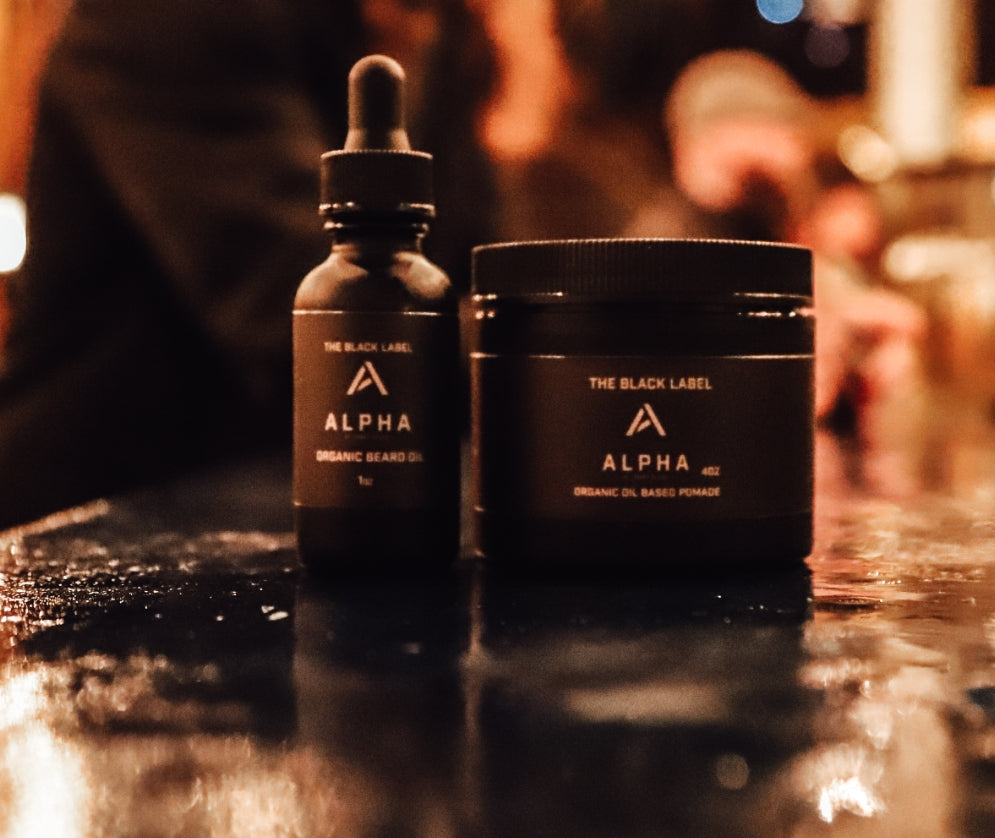 THE BLACK LABEL (YEAR-ROUND)
These fragrances are the single most intricate scents we have crafted to date.
Alpha is a complex mixture of Tobacco, Orange, Bergamot, Cove, Orchid, Musk, Vanilla, Leather, Oak, with a subtle hint of Patchouli.
Omega fragrance is a delicate blend of Bergamot, Lemon, Cardamom, Grapefruit, Lavender, Lime, Jasmine, Rose, Coconut, Black Pepper, Cinnamon, Cypress, Tonka Bean, Cedarwood, Musk, with subtle hints of Sandalwood, Vanilla, and Amber.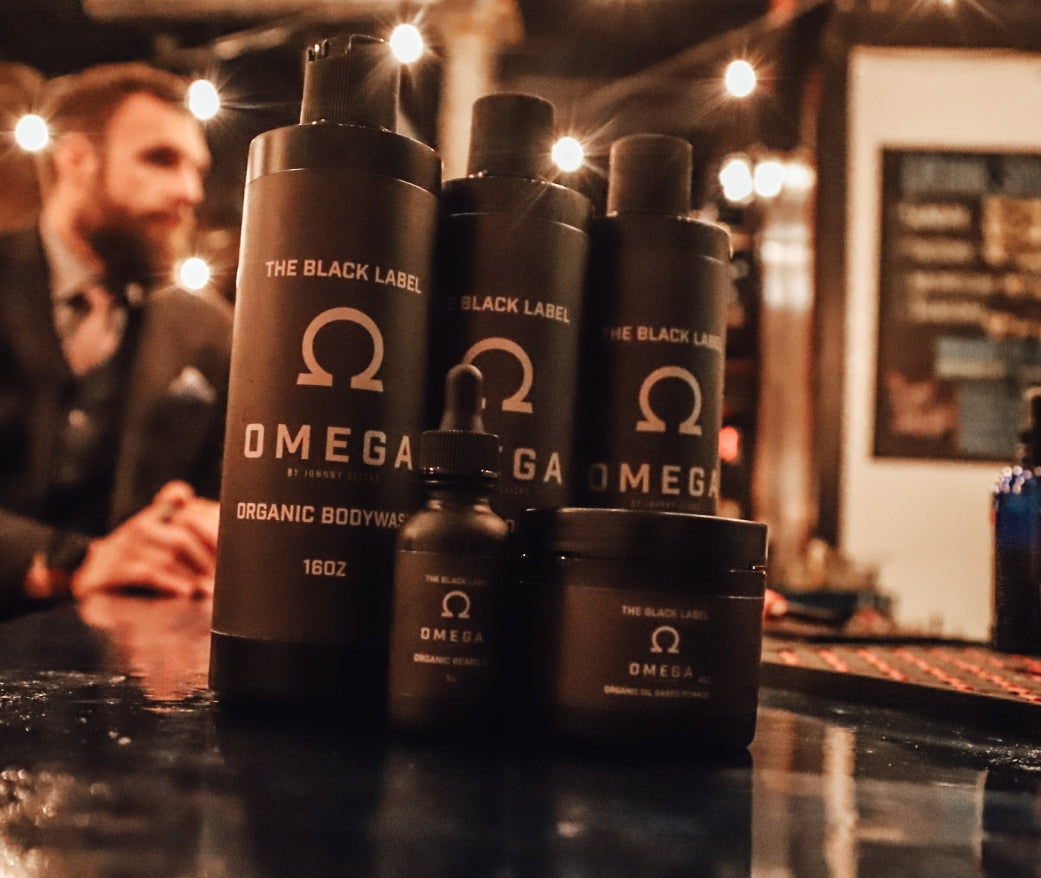 SLICKDAY CAKE
(1 DAY A YEAR EXCLUSIVE)
Every year, we celebrate our anniversary on March 7th. Johnny Slicks is currently 3 years old (Est. 2018) and each year we mark our age on this exclusive product.
SlickDay Cake is a beautiful blend of birthday cake, marshmallow fluff and vanilla bean.