I purchased the rugged scented shampoo for something more healthier for my hair and scalp the scent made me Ric WOOOOO Flair in the shower when applying and massaging my scalp. I felt refreshed and awake after I got out of the shower using this product. Get yourself this shampoo; worth every penny. -Josh B.
This shampoo is the real deal. My flow has never been more happy with me and my wife loves the smell. The icing on the cake is that it's Marine veteran made. Semper Fi, homie. -TJ R.
Since switching over to this shampoo my hair is thicker and growing back!! I love this product only issue is my family messing my hair up by smelling it so often! -Stevie B.
Our Beast Wash shampoo is designed to promote healthy hair growth without using toxic chemicals or animal testing. The organic, hand-made shampoo will help you treat dandruff, moisturize, and smell amazing all day, every day.
16oz Bottle
We only use Organic ingredients:
Beeswax, Coconut Oil, Tea Tree Oil, Argan Oil, Jojoba Oil, Fragrance (Body Safe)
How is it different?
This shampoo will keep your hair healthy, hydrated and silky smooth.
The big difference is ingredients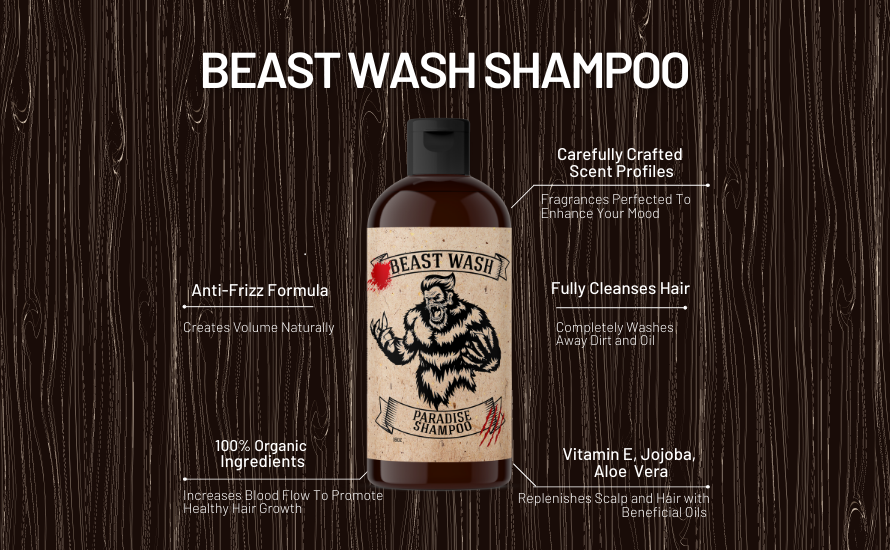 Purified Water
Coconut oil
Castor Oil
Vitamin E Oil
Aloe Leaf Juice
Other Ingredients
Jojoba Oil, Castile Soap, Glycerin, Decyl Glucoside, Fragrance (Body Safe)
How to use
Pop the top, dispense a metric slickton onto your palm, lather up, rinse off. Prepare to fight off everyone you encounter!
">