The smell is phenomenal! Everything Nick said it was if you love rugged you'll love omega! Shipping was fast and after getting the oil I ordered the rest of the omega products because the fragrance was that good! -Jonathan B.
I really like the fresh clean scent of the Omega products. Same great quality as the original line. Gotta try the Alpha next! -Jeff N.
This scent makes me want to make love to myself! - Taylor
The Omega Oil Based Pomade uses our signature oil blend, but with The Black Label scent profile. This pomade is a luxurious, rugged, and dignified product with the fragrance to match.
We only use Organic ingredients:
Beeswax, Coconut Oil, Tea Tree Oil, Argan Oil, Jojoba Oil, Fragrance (Body Safe)
How it it different?
This product helps promote healthy hair growth, prevents future hair loss, and treats dandruff and dry skin.
The big difference is ingredients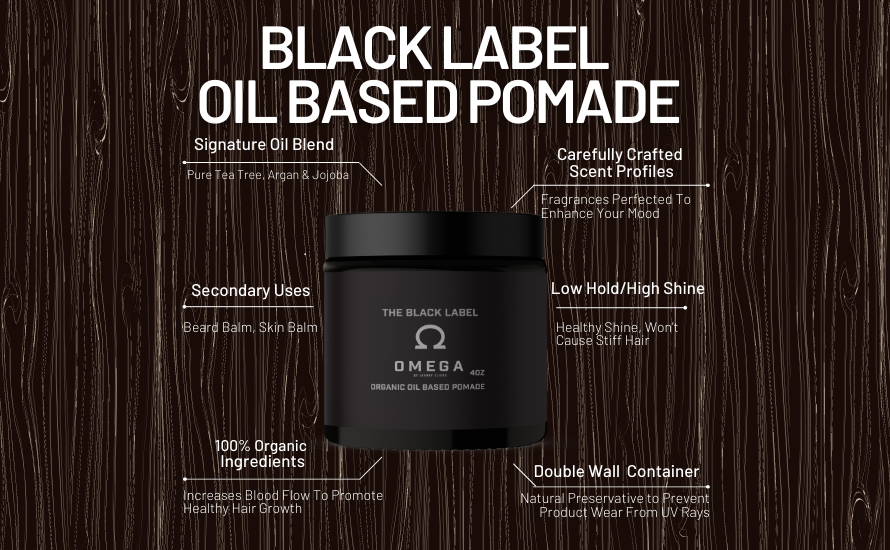 Beeswax
Beeswax is a product made from the honeycomb of the honeybee and other bees.
Coconut oil
Coconut oil is obtained from dried coconut meat, known as copra, that has been cleaned and crushed.
Tea Tree Oil
Tea tree oil, also known as melaleuca oil, is an essential oil that comes from steaming the leaves of the Australian tea tree. When used topically, tea tree oil is antibacterial.
Argan Oil
Argan oil is made from the kernels that grow on the argan trees native to Morocco. Used both topically to improve the health of skin, hair, and nails.
Jojoba oil
Jojoba oil is an oil-like wax extracted from the seeds of the jojoba plant.  Jojoba oil helps acne, dry skin, and countless other skin conditions.
Other Ingredients
Fragrance (Body Safe)
How to use
Depending on shine and hold desired, rub a small amount between palms until pomade melts and spread evenly in hair. Style with comb or fingers.
">