Johnny earned my loyalty with this one, the water based pomade has become my go-to styling product. It has just enough hold to keep your hair where you want it throughout the day, but not so much that you can't easily run your fingers through your hair. It also has a fairly mild shine, if you don't overdo it, it likely won't be apparent you used any product at all. - Taylor F.
Works amazing. Medium shine. Long lasting hold. Washed out easily. - Chris E.
I just recently purchased this brand new water-based original scent pomade and this works like a dream like a charm my hair is pretty messy and crazy and wild but this keeps it all together. -Jessica
Organic Water Based Pomade

-
The World's First Fully Organic Water Based Pomade.
This Pomade will provide you with a strong hold and a high shine.
Organic Natural Ingredients: Beeswax, Shea Butter, Coconut Oil, Argan Oil, Jojoba Oil, Tea Tree Oil, Sunflower Oil, Vitamin E Oil, Vitamin A Oil, Fragrance (Body Safe).
Directions: Rub A Small Amount Between Palms Until Pomade Melts And Spread Evenly In Hair. Style With Comb Or Fingers.
Original Scent Is Fresh, Clean, And Masculine With Notes Of Amber, Teakwood, Coffee Beans, Charred Woods Of; Pine, Cedar, And Smoky Sandalwood.
Rugged Fragrance Is An Incredible Blend Of Juniper Berry, Cedar wood, And Cuban Tobacco That Will Leave You Speechless.
We only use Organic ingredients:
Beeswax, Coconut Oil, Tea Tree Oil, Argan Oil, Jojoba Oil, Fragrance (Body Safe)
How Is This Different?
The first ever water soluble organic pomade! This pomade helps to promote healthy hair growth, prevents future hair loss, and treats dandruff and dry skin.
The Big Difference Comes Down To The Ingredients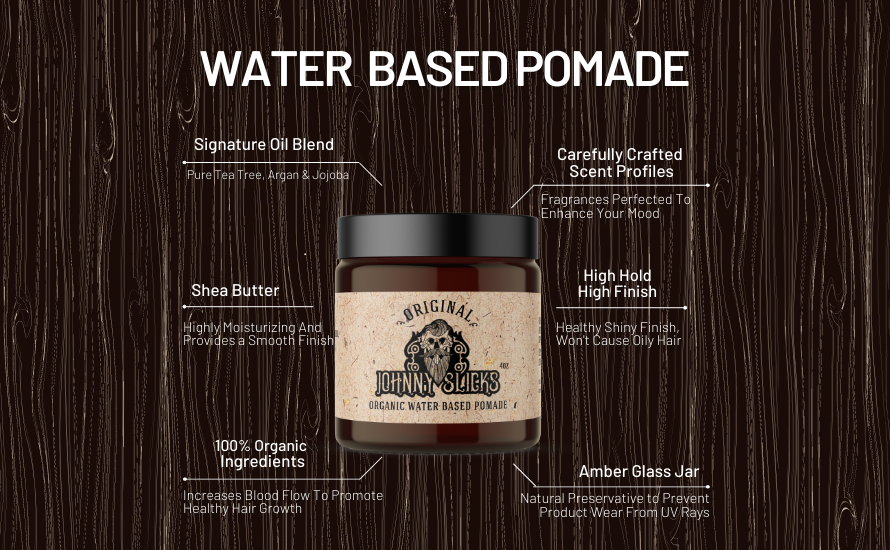 Coconut Oil
Beeswax
Argan Oil
Jojoba Oil
Other Ingredients:
Tea Tree Oil, Shea Butter, Sunflower Oils, Vitamin A & E Oils, Fragrance (Body Safe)
How To Use
Depending on shine and hold desired, rub a small amount between palms until pomade melts and spread evenly in hair. Style with comb or fingers.
">